Versions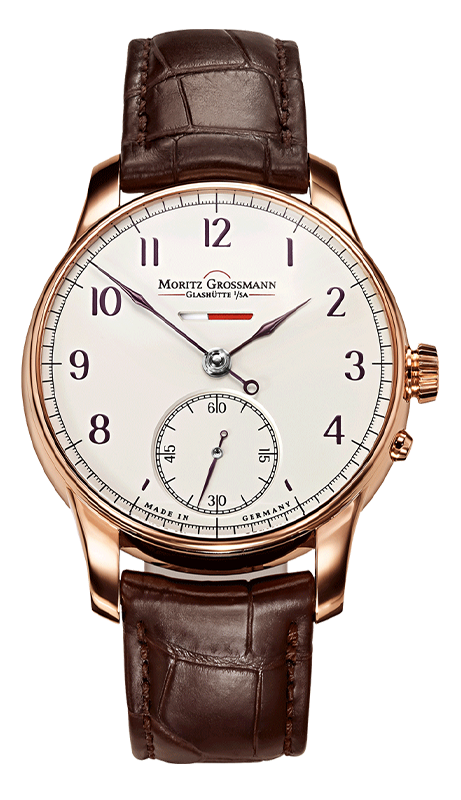 Rose gold
Case:750/000 rose gold
Dial:argenté
Hands:Hand-crafted, steel, anneald to a brown-violet hue
On 11 November 2008, Christine Hutter founded Grossmann Uhren using the great name of Moritz Grossmann, the co-founder of the Glashütte watch industry. The BENU Power Reserve Anniversary is a celebration of the company's tenth birthday with a special engraving done by hand to honours Moritz Grossmann.
In a nod to the special anniversary of the manufactory, the rose gold BENU Power Reserve Anniversary has '2008 — 2018' engraved on the left side of the case by hand. In addition, Moritz Grossmann's initials have been engraved on the upper right-hand side of the casing between the crown and strap.
The wafer-thin hands annealed in brown, solid silver dial is adorned with Fine Arabic numerals, giving the face of the watch its special elegance.
Thanks to their fineness, they are reminiscent of the precision instruments produced by Moritz Grossmann in the 19th century. Craftsmanship meets innovative mechanics with the bar-shaped opening under the Moritz Grossmann logo, revealing a power reserve indicator. When the movement is fully wound, it is completely white and shows an increasing amount of red as the watch runs out. Grossmann's manual winding with pusher provides a perfected hand setting mechanism.
During his lifetime, Moritz Grossmann inspired with his work in the political and social spheres. The visionary was a widely respected author who published in various languages. His trailblazing technique is still reflected in the watches produced by the Grossmann company today. The Moritz Grossmann brand manufactures timepieces to the highest standard of craftsmanship under the motto "Schönstes deutsches Handwerk" — "the most beautiful German craftsmanship. The BENU Power Reserve Anniversary is offered with the calibre 100.2 in a High-Artistic Finish as a single edition 1 of 1.
The
calibre 100.2
Discover everything about the heart of the BENU Power reserve anniversary.
Learn more
Tech Specs
Movement
Manufacture calibre 100.2, manually wound, adjusted in five positions

Special features
Grossmann balance; lateral pusher for disabling the handsetting mode and starting the movement; bar-shaped power-reserve indicator with two-coloured display segment driven by a planetary gearing system; space saving and modified Glashütte stopwork with backlash; adjustment with Grossmann micrometer screw on a cantilevered balance cock; Pillar movement with 2/3 plate and frame pillars in untreated German silver, 2/3 plate, balance cock and escape-wheel cock hand-engraved; broad horizontal Glashütte ribbing, 3-band snailing on the ratchet wheel, raised gold chatons with pan-head screws; separately removable clutch winder; stop seconds for handsetting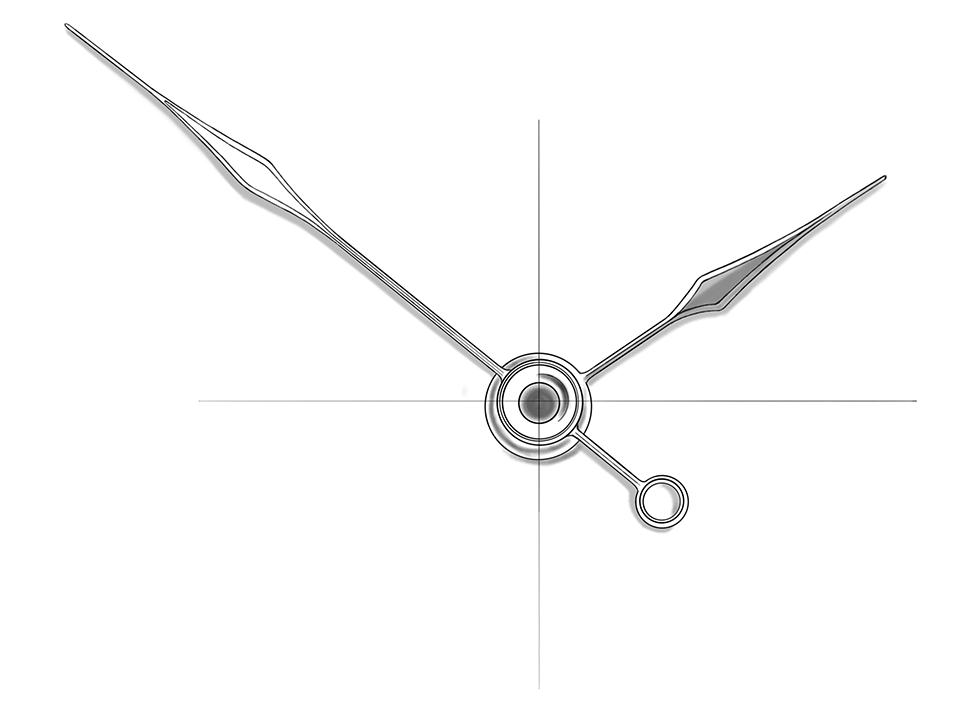 Functions
Hours and minutes, subsidiary seconds with stop seconds, Grossmann winder with pusher, power-reserve indicator

No. of jewels
26 jewels, 3 of which in screwed gold chatons

Escapement
Lever escapement

Oscillator
Shock-absorbed Grossmann balance with 4 inertia and 2 poising screws, Nivarox 1 balance spring with No. 80 Breguet terminal curve, Gerstenberger geometry

Balance
Diameter 14.2 mm, frequency 18,000 semi-oscillations per hour

Power reserve
42 hours when fully wound

Operating elements
Crown in 750/000 gold to wind the watch and set the time, pusher in 750/000 gold to start the movement

Case dimensions
Diameter: 41.0 mm, height: 11.65 mm

Movement dimensions
Diameter: 36.4 mm, height: 5.4 mm

Case
Three-part, precious metal

Dial
Solid silver, with Arabic numerals

Hands
Hand-crafted, steel or stainless steel

Crystal / display back
einseitig entspiegeltes Saphirglas
Strap
Hand-stitched alligator with precious metal prong buckle