Private viewing showcases new special model and selected works by the artist
With the TEFNUT Lady Butterfly, watch manufactory Moritz Grossmann presents a slice of great happiness in the smallest space. In accordance with the artistic design created by Harriet Oberlaender, a swarm of colourful butterflies has been painted on the mere 29 mm mother of pearl dial by hand in the form of a miniature painting. For the artist, the butterfly is a playful symbol of lightness and the preciousness of each moment.
The new model will be presented on 5 April 2019 to an exclusive audience in the Moritz Grossmann manufactory in Glashütte. In addition to the TEFNUT Lady Butterfly, selected works by the artist Harriet Oberlaender will also be on display as part of a exhibition of paintings.
Born in Zwickau, artist Harriet Oberlaender has lived and worked on the Cote d'Azur for more than 20 years and has inspired an international audience in numerous exhibitions in France and Germany. Her expressive, energetic works are characterised by a feeling of freedom, expanse and the search for true happiness. Her visual language leads straight to the heart. The butterfly – one of the key motifs in her works – is a symbol of the human soul that wants to unfold and fly.
The design of the TEFNUT Lady Butterfly was particularly close to the artist's heart: 'I'm really pleased that I've been able to realise the TEFNUT Lady Butterfly for Moritz Grossmann. I want every glance at the watch not only to reveal the time to the wearer, but also remind her of the happiness of a fleeting moment'.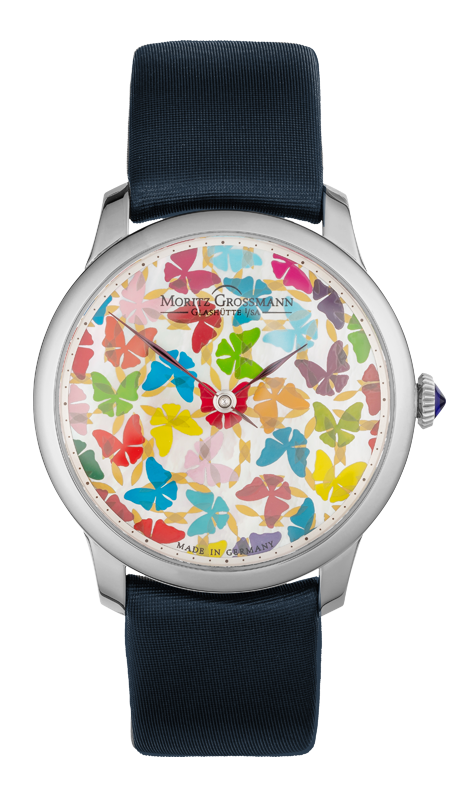 The mother of pearl dial forms the perfect backdrop for the colourful butterfly motif of Moritz Grossmann's new, exclusive watch model, which is applied by hand with a delicate stroke. The work of art is framed by a rose gold or white gold case and a slender bezel, each optionally available with 80 brilliant-cut diamonds. A stone worked into the crown blends seamlessly into the sophisticated look of the watch. The handmade Grossmann hands, tempered in brown violet over an open flame, and the satin strap form a calm contrast to the play of colour.
The sapphire crystal back on the rear of the watch reveals the mechanically sophisticated inner workings and also contains the artist's signature. The calibre 102.1 sparkles in High Artistic finish with all the Grossmann elements such as the cantilevered balance cock with Grossmann micrometer screw, the raised gold chatons, the separately removable winding mechanism and the mass-optimised Grossmann balance.