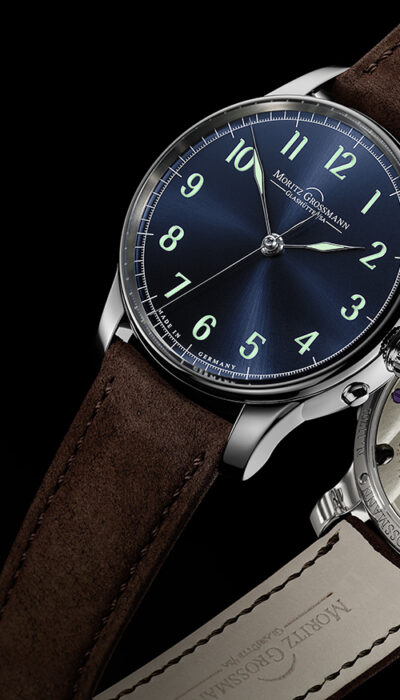 Versions
Stainless steel
ReferenceMG-002909
Case Stainless steel
DialBlue with sunray finish
HandsManually crafted, steel, hour and minute polished steel with HyCeram Luminex filling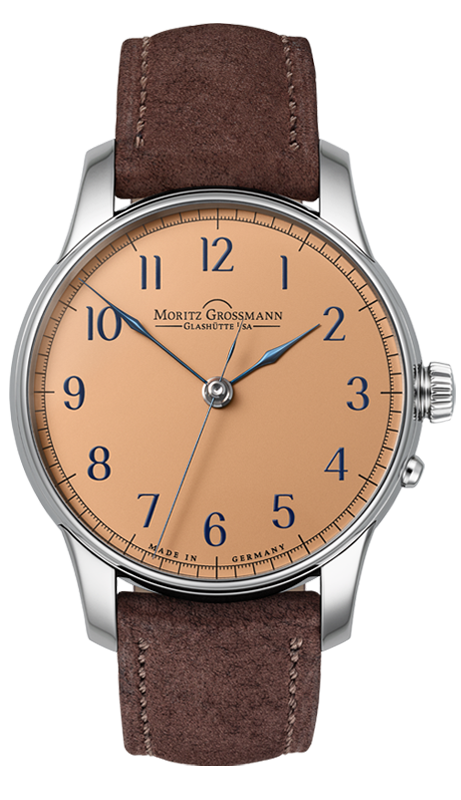 Stainless steel
ReferenceMG-002939
CaseStainless steel
DialSalmon
HandsManually crafted, steel, annealed to a blue hue
Limited Limited to 25 watches worldwide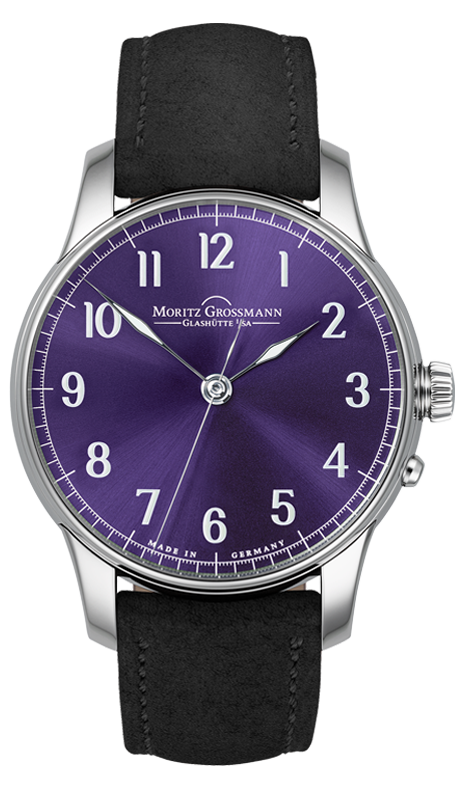 Novelty 2022
Stainless steel
ReferenceMG-003297
CaseStainless steel
DialPurple with sunray finish
HandsManually crafted, steel, hour and minute polished steel with HyCeram Luminex filling
Limited Limited to 25 watches worldwide
莫里茨·格罗斯曼(Moritz Grossmann)透过新款 「ZENTRALSEKUNDE」大三针腕表,重探「精准至秒」之于文明发展的重要与贡献。与格罗斯曼(Grossmann)腕表五往常推出的小三针表款不同,新款的长型秒针被置于中央,设计更为精简大方。
ZENTRALSEKUNDE 为德国制造,采精钢表壳,呈现最完美的的德国工艺(Schönstes deutsches Handwerk),将最高水准的手工艺与性能完美的机械装置结合在一起,借此呼应格拉苏蒂(Glashütte)制表大师莫里茨-格罗斯曼(Karl Moritz Grossmann)的毕生理念。这位卓越的制表师,也是1878年德国制表学校创办人,致力制作简单但机械完美的钟表,该理念至今一直由品牌传承遵守。
shines during the day, lights up at night
CENTRAL SECOND
While conventionally the small second hand is placed in the six o'clock position in the bottom third of the dial on Grossmann watches, here a large-scale second hand is positioned in the centre of the highly refined dial.
CENTRAL SECOND combines a case made from polished steel with a charmingly elegant feel and superb functionality.
HyCeram Luminex luminescent hands that make it easy to tell the time in the dark
The Grossmann manual winder with pusher
HyCeram Luminex luminescent hands that make it easy to tell the time in the dark
A striking contrast to this is provided by the numerals in a rich white and the polished steel hands in white. Filled with HyCeram Luminex, they also make it easy for the wearer to read the time, even in the dark. This hybrid ceramic comprises powerful luminescent pigments that glow in the dark intensively, are long-lasting and produce a beautifully bright green colour.
Dial in salmon
The second version of CENTRAL SECOND comprises a salmon-coloured dial and is limited to 25 watches worldwide.
The manually crafted hands made from steel blued over an open flame form a wonderfully sophisticated contrast to the dial in a salmon hue. With the Moritz Grossmann logo and Made in Germany inscription in black letters, the blue hands and numerals form a harmonious ensemble. All of these elements combined underline the watch's air of classic understatement.
The Grossmann manual winder with pusher
The in-house developed manual winding mechanism with pusher contains a perfected hand setting mechanism, which eliminates two potential problem areas: avoiding the ingress of foreign particles during the adjustment process and altering the hands unintentionally when pushing the crown back into place.
After a short pull on the winding crown, the mechanism switches to hand setting and simultaneously stops the movement. The crown immediately returns to its original position, allowing the hands to be adjusted precisely. The movement is then restarted using the pusher below the winding crown without having to move the crown again. At the same time, the mechanism is reset to winding mode.
The
Calibre 100.11
Discover everything about the heart of the CENTRAL SECOND.
Learn more
Tech Specs
机芯
100.11 型自制机芯、手动上链、五方位调校
特色
格罗斯曼摆轮;透过侧方按钮解锁指针设定并启动机芯;节省空间、经过改良的格拉苏蒂棘轮,具有回转功能;透过位于阶梯式摆轮凸轮上的格罗斯曼的微调计螺丝进行调校;导柱机芯带有未经处理的德国银材质的2/3 夹板与支柱;摆轮与擒纵轮板带有手工镌刻;宽形横向格拉苏蒂菱纹;棘轮上有太阳放射纹饰;可单独拆卸的离合上链装置;停秒功能,用于指针设定;中央四番轮
操控零件
不锈钢表冠,用于腕表上链与时间设定,机芯启动按钮
摆动系统
防震式轴承固定格罗斯曼摆陀,带有四个平头螺丝与两个微调螺丝,Nivarox 1游丝带有80号宝玑末端曲线,形状源于古斯塔夫·戈斯腾柏格( Gustav Gerstenberger)
摆轮
直径:14.2 毫米,振频:18,000 次/小时
功能
小时、分钟和秒钟显示,秒针附停秒装置,格罗斯曼按钮式手动上链装置
表壳尺寸
直径:41.0 毫米,厚度:12.00 毫米
机芯尺寸
直径:36.4 毫米,厚度:5.30 毫米
指针
精钢蓝钢/精钢抛光,HyCeram Luminex专利树脂夜光涂料(时针和分针)