Versions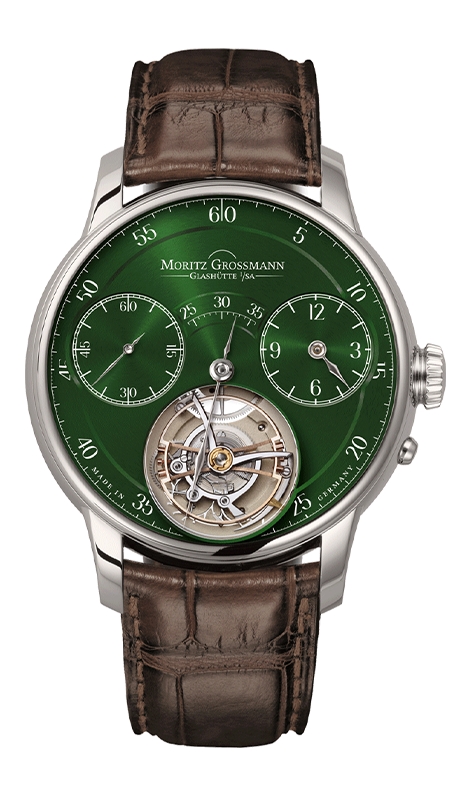 White gold
Case:Three-part, in 750/000 white gold
Dial:Solid silver, three-part, brown with Arabic numerals
Hands:Manually crafted, steel annealed to a brown-violet hue or stainless steel polished
Grossmann Uhren, founded on 11 November 2008 by Christine Hutter, manufactures handcrafted timepieces of the highest quality with classic yet modern designs. With the TOURBILLON Green model the manufactory presents a special one-off piece of the most luxurious components. The watch is one of 24 unique pieces that have been made as part of Moritz Grossmann's special tenth anniversary collection.
The dial's striking British racing green colour was used until 1970 on British racing cars at international car races. For the TOURBILLON Green, the designers at Grossmann Uhren manufactory introduce the calibre 103.0 movement, which features numerous innovations. Key features include Grossmann's three-minute tourbillon, designed by Alfred Helwig, the flying tourbillon cage with V-shaped balance bridge, the second stop with hairbrush and the duplicate minute display indicated by an extension of the minute hand.
The view of the solid silver dial in British racing green is reminiscent of the fittings in the cockpit of a racing car. Two auxiliary dials show the seconds and the hours separately. The most striking visual refinement can be found in the lower quarter of the dial in place of the 6 o'clock mark; the finely divided minute scale is interrupted by the tourbillon cut-out in the range between 25 to 35 minutes.
The extension of the minute hand allows it to be precisely read in the mirrored direction on an opposite scale — a highlight that is based on the clear aesthetics of Glashütte preci-sion measuring instruments from Moritz Grossmann's time.
With the TOURBILLON Green, Grossmann Uhren Manufaktur presents a reminder of a great designer who dedicated himself less to the art of racing and more to that of watch-making: Moritz Grossmann. As a young watchmaker he set off for London in the autumn of 1853, where he spent a year learning and working.
The Moritz Grossmann brand manufactures timepieces to the highest standard of crafts-manship. Under the heading 'Schönstes deutsches Handwerk' — 'the most beautiful German craftsmanship'. Traditional precision mechanics are combined with state-of-the-art construction and manufacturing technologies. The TOURBILLON Green is presented as a one-off piece in 750/000 white gold in the edition 1/1.
The
calibre 103.0
Discover everything about the heart of the BENU Tourbillon.
Learn more
Tech Specs
Movement
Manufacture calibre 103.0, manually wound, adjusted in five positions

Functions / features
Flying three-minute tourbillon with screw-secured driving wheel and V-shaped balance bridge (design patent pending); Sweep minutes, off-center hours and seconds with stop seconds; replacement of the missing minute scale segment from 25 to 35 minutes with a separate scale swept by the extension of the minute hand on the opposite side (patented); Stop seconds at the balance wheel rim with a pivoting fine-hair brush (patent pending); asymmetric-arm lever escapement with counterweight and lever banking pin; Grossmann balance with suspended balance spring, adjustable with poising screws in the rim; newly developed mainspring barrel jewel bearing; brake ring on the fourth-wheel arbor made of very hard, oily guaiacum; ARCAP train wheels; Grossmann winder with pusher to deactivate the hand setting mode and start the movement; modified Glashütte stopwork with backlash; pillar movement with 2/3 plate and frame pillars in untreated German silver; hand-engraved 2/3 plate and tourbillon cock; broad horizontal Glashütte ribbing; 3-band snailing on the ratchet wheel; raised gold chatons with pan-head screws; white sapphire bearing jewels; separately removable clutch winding mechanism

No. of parts
245 (wheel train 186, cage 59)

No. of jewels
30, 4 of which in screwed gold chatons (wheel train 17, cage 13)

Escapement
Lever escapement

Oscillator
Grossmann three-minute tourbillon with stop seconds; shock-absorbed Grossmann balance with 4 inertia and 2 poising screws, suspended Nivarox 1 balance spring with No. 80 terminal curve, Gerstenberger geometry

Cage speed
1 revolution in three minutes, anti-clockwise when viewed from dial side

Balance diameter
14.2 mm, frequency 18,000 semi-oscillations per hour

Power reserve
72 hours when fully wound

Operating elements
Crown in 750/000 white gold to wind the watch and set the time, pusher in 750/000 white gold to start the movement

Case dimensions
Diameter: 44.5 mm, height: 13.8 mm

Movement dimensions
Diameter: 38.4 mm, height: 7.1 mm

Case
Three-part, in 750/000 white gold

Dial
Solid silver, three-part, green with Arabic numerals

Hands
Manually crafted, steel or stainless steel polished

Crystal / display back
Sapphire crystal, antireflective coating on one side

Strap
Hand-stitched alligator strap with butterfly clasp in white gold